The Society for Microcirculation and Vascular Biology (www.gfmvb.com) promotes the scientific exchange of information in the field of microcirculation and vascular biology in German-speaking countries. Aspects from theoretical and experimental basic research to clinical studies and from molecular and cellular investigations to integrative approaches are represented.
The annual scientific conferences serve to discuss new findings and to support young scientists.
Members of the society (annual fee: € 50, students € 20) automatically become members of the European Society for Microcirculation and are given free access to the Journal of Vascular Research.
The GfMVB pays the membership fee to the ESM (€ 20, students € 5).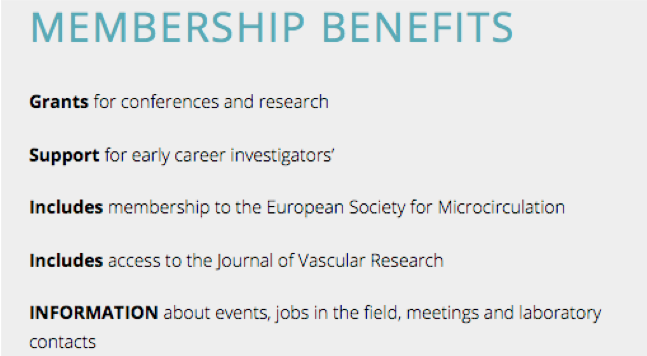 Why are our conferences particularly attractive to Early Carreer GFMVB members:
our meetings are relatively small and friendly
registration fees are kept low for junior scientists
large selection of poster and oral awards
meeting the best speakers and experts in the vascular field in an informal athmosphere
activities aimed at networking with other junior researcher